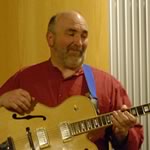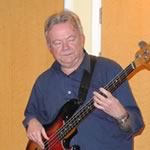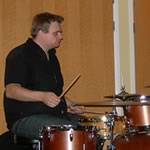 Meet the house band. A strange breed, often found at the bar with a trio of Becks
The house band for the Jazz Suite is local jazz band 'Format'. Available throughout the southwest for wedding jazz, gigs and events.
Steve Jenner
Guitar
Steve started playing classical guitar at the age of 12 performing Bass in bands in the 70's. Steve has played in many show bands and has been teaching and composing for over 20 years. Steve has performed on numerous BBC and Channel 4 productions and is currently working on an album of original material. Steve plays a Cort LC1 archtop through an AER compact 60.
Bob Marks
Bass / The Bobfather / Becks
The son of a Professional Jazz Drummer, Bob's first interest in playing the guitar started at an early age and at 12 he was a very competent Classical guitarist. He progressed in his early 20s to playing bass guitar. Over the years he has played in a very wide range of bands, from country to heavy rock, and trad jazz. In the 80s he toured with the rock band Blade, and in the 90s with Trigger (Medicine Bow), the country band.
Ed
Drums
Ed has been playing with Steve and Bob since the dawn of time. His favourite jazz drummers are Jeff 'Tain' Watts, Jack deJohnette, Billy Cobham and Brian Blade. Amongst his favourite albums are: Heavy Weather (Weather Report), Dear Louis (Nicholas Payton), Big Train (Wynton Marsalis) and Flow (Terence Blanchard)