Tony McQuarry
Tenor Sax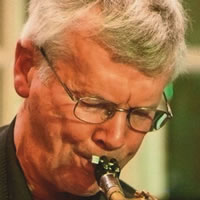 Tony's first performances were at jazz and dance venues in 1957. Between 1958 and 1960 he spent his National Service as a member of the Band of the Royal Corps of Signals.

On return to Plymouth, Tony joined the Les Watts Big Band (the resident band at the "Duke of Cornwall" hotel) and remained there as a member for the following decade.

He had a brief spell as a leader of his own jazz quartet in the early 1970's and has made several broadcasts on "Plymouth Sound" radio with varying sized jazz groups.

Since 2003, Tony has been a member of the "Plymouth Jazz Messengers".

More recently, Tony has joined up with guitarist Frazer Weekes performing at the "Devon Music Festival" in 2007 and 2009 plus an appearance at the 2009 "Plymouth Barbican Jazz and Blues Festival" and the Plymouth Jazz Club in August 2014.

He has been with Dave Hankin's Big Band for the last 5 years, occupying the 1st tenor saxophone chair in the section.