The Swiss
Energetic Nu-Jazz Trio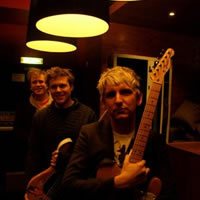 A jazz act with a truly unique voice, the Swiss are dynamic and exciting in their fusion of infectious melodies, rock rhythms, electronica musings and jazz improvisation. Their compositions push the boundaries of the ever-changing jazz spectrum.

Si Robinson, Steve Down and Andy Balls met at the University of Southampton, where, under the watchful mentorship of Dave Marchant, they began carving their individual sound.

The Swiss sound hinges on the trio acting as a single entity whilst exploring rhythm and groove, repetitive riffs and soaring melodies.

This soon resulted in the production of their first collaboration - a meandering improvisation that was divided into 4 movements and wistfully named, "Requiem for a Dream". The next output for the Swiss came in the form of cover versions of jazz standards and other favourites of the trio, such as "Man With A Movie Camera" - The Cinematic Orchestra, "Corpus Christi Carol" - as made famous by Jeff Buckley.

It was in 2007 that the Swiss gathered momentum as a trio. They debuted new material at the Turner Sims Concert Hall, a venue they had long wanted to perform in. This event was followed by their signing to the Independant Label, Chiwawa Records. Soon after, the trio recorded their debut EP, 'Souvenir' in Southampton's Purple Square Studios with friend, Chris Taylor.

The EP featured three original compositions and one cover by band favourite, the Neil Cowley Trio.

In 2008 The Swiss began work on their latest record, an LP titled "Fraudulent Jazz". The record was laid down at the legendary Real World Studios and was engineered and mixed by Marco Migliari.

With appearances at the Isle of Wight Jazz festival in 2008, and the Cheltenham Fringe in 2009, The Swiss have begun a journey; intent on entertaining at every possible occasion.