The Silver Street Horns
Ian Pettit and George Comer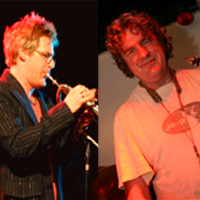 The Silver Street Horns are an established horn section playing in the Plymouth area. George plays Saxes, from baritone to soprano, and Ian is on flugel horn and trumpet. Their recent work includes jazz, blues and reggae. They were even spotted recently playing a hornpipe at the barbican festival!

For this gig they will be rooted in the blue note era, playing some Lee Morgan style funk, as well as giving a few standards the Silver Street treatment!