Roz Harding
Exciting Saxophonist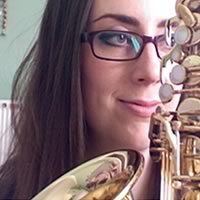 Roz Harding is an exciting saxophonist. Her passion for expressive improvisation and a love of experimenting shines through her performances. It is no secret that Roz adores the alto sax and favours it. For her it speaks the strongest from the saxophone family and she feels the most connection with. The alto works well for Roz and audiences enjoy her ability to communicate.
Roz's playing has been described as 'fiery, punchy, rhythmic, emotional, lyrical, melancholic, gutsy'

Roz is a graduate from Middlesex University where she studied the saxophone with leading British saxophonist Mark Lockheart. Since graduating Roz has enjoyed many different roles as a musician. She has worked within the South West music scene for over 9 years performing in various ensembles & teaching musicians of all levels in schools and colleges. Currently Roz is the alto sax tutor and musical director for Jazz Project at Exeter College. 2010 has also seen Roz coaching students in the Devon Youth Jazz Orchestra and getting involved with the examining board OCR.

Performing live has become her main focus and provided Roz the opportunity to play alongside some wonderful musicians (including Mark Lockheart, Issie Barratt, Paul Dunmall, Alan Barnes, Johnny Lippiett, Harry Beckett, Mike Westbrook, Julian Marc Stringle, Dominic Ashworth, Andy Tweed, Karen Street).

Roz enjoys the freedom and opportunity for unlimited expression that she finds in jazz. This drive to explore fueled the formation of Sketch (and her endless travels to London to play and rehearse!)

Enjoy the raucous flurries alongside soft lyricism from this truly expressive player.