Pete Canter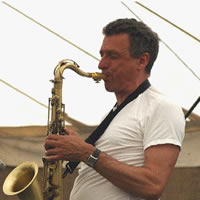 Pete Canter is a fine soprano, alto and tenor saxophone player and composer with a repertoire drawing on bebop, hardbop, latin jazz, and his own contemporary compositions.

He has played at many major U.K. Jazz festivals including Cheltenham, Teignmouth, Bude, Hayne Barton, Taunton, Pontypool, Exeter Vibraphonic, Summer and Autumn Festivals, and the North Devon Festival.

His bands have supported Polar Bear and Kyle Eastwood and he has played with Iain Ballamy, Christian Brewer, Harry Beckett, Ted Beament, and Jim Fryer.

His last album "Ununbium" was described as "varied, exciting, exceptional." by Musician Magazine and was rated 3 star (good) by Jazzwise. The release of his new album "Lightflight" is imminent.