Neil Maya
Saxophone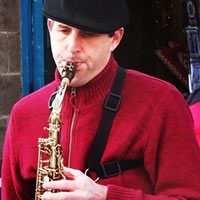 Since moving to Devon in 2001 he has become increasingly busy as a saxophonist playing in many styles including classical and jazz throughout the South West including his own jazz quartet The Neil Maya Quartet www.neilmayaquartet.co.uk as well as the Drat Pack www.thedratpack.co.uk and Solar www.solarfunkymusic.co.uk as well as other depping work. With his quartet he has played to much critical acclaim all over the Southwest of England and has produced two CDs; Out of the Woodshed (2006) and Bread and Circuses (2009). Neil also plays in and arranges for True Brass www.truebrass.co.uk a southwest based new Orleans style funky brass band.

As well as live performance Neil teaches clarinet and saxophone privately. He also runs a number of groups including the South Devon Big Band and runs workshops on jazz improvisation as well as arranges and composes.

Neil began playing music at an early age, taking up clarinet at age eight and piano age five. He progressed on to the saxophone as well when he was fifteen. Neil studied clarinet and piano at the Royal College of Music junior department up to the age of eighteen when he went on to study an unrelated degree. Throughout his degree studies Neil continued to play music on a frequent basis including playing principal clarinet with the Bedfordshire Youth Orchestra. During this time Neil became increasingly interested in playing jazz and other styles as well as classical music especially on the saxophone. On completing his degree Neil embarked on a career of teaching and performing on clarinet and saxophone and has now been working professionally for the last twenty years.