Louise Parker
Vocalist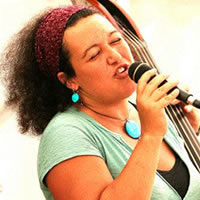 With a Jamaican mother and jazz-obsessed father, Louise Parker was born to create the sort of soulful jazz she is rapidly gaining a reputation for.

Named after Louis Armstrong and bought up listening to her father's extensive blue-note collection, it was until her late thirties however (after numerous career choices!) that Louise discovered she could actually sing.

Following a Diploma in Performing Arts and a jazz summer-school with Lee Gibson, Louise began performing with Plymouth based main-stream jazz band Woza in 1998, gaining valuable experience on the West country jazz club and festival circuit.

By 2005 the band had transformed into the Louise Parker Quartet and saw her performing with notable jazz musicians such as Craig Milverton, Nicola Muresu and John Blease and at venues including the Glastonbury Festival Jazz Lounge, Pizza Express, Dean Street, Pizza on the Park, Knightsbridge, and the Isle of Wight International Jazz Festival.

In 2006, Louise was tipped by Evening Standard critic Jack Massarik as the most promising new jazz singer and she didn't disappoint with more performances at Pizza on the Park.

2007 has seen her up her game once more, performing with BBC Jazz Award winner, saxophonist Alan Barnes at the Plymouth Orange Music Festival and recording her latest CD with him. Other venues planned for this year include The International Isle of Wight Jazz Festival, Keswick Jazz Festival, Pizza Express with Alan Barnes (Dean Street), Sterts Theatre with Karen Sharp, The Hayne Barton Jazz Festival, and The Teignmouth Jazz Festival.

With influences including Sarah Vaughan, Ella Fitzgerald and Billie Holiday and a mix of funk and gospel, Louise combines an easy rhythmical style with a sweet warm tone and daring scatting to create a performance which really stirs the soul.

Louise has just recently recorded on Humphrey Lyttelton's next album -'Cornucopia'- which will be released later this year on Calligraph Records.