Jade Gall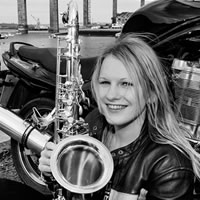 Jade Gall is a classically trained saxophonist who recently graduated from the Royal Welsh College of Music and Drama as a Master of Arts in Music Performance. She studied with Lara James and Gerard McChrystal during her time there and she is now going onto pursue her love for the Tenor Saxophone by increasing the awareness for this fantastic instrument.
This year Jade was given the fantastic opportunity to perform a solo concert as part of the Welsh Proms at St. David's Hall on the Lefel 1 stage where she got to premier a new work for Tenor Saxophone that she had commissioned. This year she has also performed alongside Devon based band 'Michael Campari and the Solar System' at Glastonbury Festival and as well as her own organised concerts, she has performed an evening recital for Calstock Arts.

In the summer of 2010, Jade was awarded a Diploma of the Associated Board of the Royal Schools of Music in saxophone performance where she swiftly went on to be admitted a Licentiate of the Royal Schools of Music in saxophone performance in December of 2010. In 2011, Jade graduated from Dartington College of Arts in Music performance (professional practice).
Over recent years Jade has attended many masterclasses and workshops, these include sessions with Gerard McChrystal, Andy Scott, Vincent David, Sarah Markham and the Traditional Cubano Trio. Jade has also taken part in orchestral rehearsals with The Rehearsal Orchestra, the latest involved playing in Gershwin's An Amercican in Paris.

Jade is very keen in promoting the saxophone as a worthy classical concert instrument, especially the tenor saxophone, which is where she feels most at home. She is always actively organising concerts in and around the Devon Area.

Although Jade is a classically trained saxophonist, she loves to play in other styles of music. Jade plays tenor saxophone for Michael Campari and the Solar System and has stood in for other Devon based bands which include; Freshly Squeezed, The Dave Hankin Big Band and the Simmertones.

Jade aspires to be an internationally renowned saxophonist, and wants to commission as many new works for the tenor saxophone as possible, to enable it to acquire the following and popularity that it deserves.