Ian Wright
Keyboard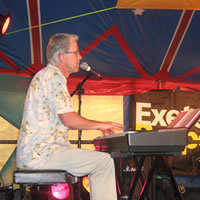 Ian found his love of jazz piano and improvising whilst exploring the piano at a very early age. Largely self taught, Ian has been performing now in the South West for over 25 years. Initially exploring ragtime and other traditional forms of stride, Ian moved into the more contemporary world of jazz piano about 20 years ago whilst attending Dartington and since then has performed as creative side man for many established local and national artists as well as leading his own trio.

For the last 8 years now Ian has also appeared alongside the established south west saxophonist, Pete Canter, in anything from a duo to octet performing all over the South West.
Ian currently devides his time between running a busy and successful music department in a large comprehensive school in Devon and leading several different ensembles - The Swing Set (Sinatra style dance band), Mas Bajo (7 piece Latin fusion festival band) and the much acclaimed Curacao Trio - a dynamic, well rehearsed, Latin Jazz piano trio featuring Mark Hayward and Chris Harris. This bands focuses on showcasing classic Latin Jazz compositions by composers such as Chick Corea and Michel Camilo as well as the group's own Latin Jazz works.