George Cooper
Piano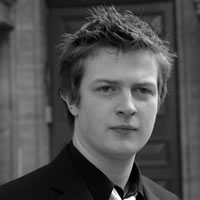 George Cooper is a vibrant and exciting young pianist who is able to combine mainstream lyrical melodies with a contemporary, cinematic approach to jazz.

Since the age of nine, George has flourished as a captivating musician, working across a variety of mediums within the industry. Predominantly a composer, he has worked in Los Angeles for top Hollywood film composer, Hans Zimmer, in London with film orchestrator Julian Kershaw and has arranged traditional big band Jazz for Nigel Kennedy and his Orchestra Of Life.

Playing alongside some of the UK's premier Jazz musicians, George's expressive technique has been described as 'dynamic, soulful, subjective and electrifying'.